Governance within a Multi-Academy Trust
Hanham Woods Academy is part of the Cabot Learning Federation, a multi-academy trust that is responsible for a number of academies across Bristol, South Gloucestershire and North Somerset.  Governance for a multi-academy trust operates at two levels.  At trust level, there is a Board of Directors.  The directors are accountable to the Department for Education and external government agencies, including the Charity Commission, for the quality of the education the trust provides and the effective use of the associated academy funding. They are required to have systems in place through which they can assure themselves of quality, financial probity, safety and good practice. The Board is provided assurance on a number of these areas through various sub-committees, as shown in the diagram below. For further information about the Board, please search https://www.clf.uk/governance/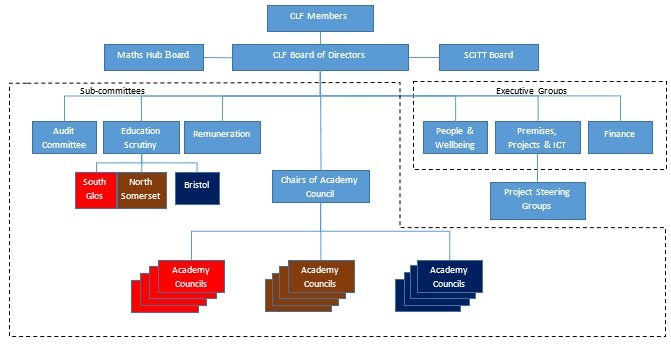 The Academy Council at Hanham Woods is made up of:
Chair of Academy Council
Jon Gould (Appointed October 2017)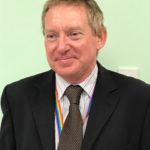 "I have been involved in School Governance in East Bristol for over 20 years and also work in a Bristol secondary school – this has helped my understanding of the needs of students,staff and parents/carers.
I believe that every child has the right to attend a good local school which is at the heart of it's the community. I am proud to be part of the team at Hanham Woods Academy which has the highest aspirations for the success of its students in every aspect of their lives"
Leigh Paul – Clerk to the Academy Council – [email protected]
Sponsor Councillor
Richard Ridell (Appointed September 2018)
"I am an educationalist of over forty years' standing and have been a teacher in comprehensive schools, a senior officer in four local authorities (including Bristol where I was Director Education for seven years), a senior education consultant working in the private sector, head of education for an international NGO (Amnesty International), and more recently an education lecturer at Bath Spa University.
While teaching at undergraduate, master's and doctorate levels at Bath Spa, I research and write about Education and schooling. I have to date published three books. I have also been a chair of governors of a special school and am a former Trustee of a Multi-Academy Trust."
Scott Howarth (Appointed November 2017)
"I was elected Academy Councillor in September 2017 overseeing Health and Safety for the Academy Council. I have 2 grown up children who successfully came through the Academy and have a son in the current Year 9.  Professionally I am a manager of a Building Supplier, I also coach U14's Rugby in my spare time.  I enjoy being part of the Academy Council with people from all walks of life and the challenges it brings."
Student Advocate
Allen Williams
"As Student Advocate, my responsibility is to ensure we hear the students voice from within our Academy. Looking at positive situations and how these can be grown, as well as negativity and how to eradicate these issues and support our students to overcome these areas."
Parent Councillor
Lynn Dare (Appointed September 2018)
"I have recently been appointed as a Parent Councillor. I am a Geography graduate with a diverse business background. I have undertaken roles ranging from travel agent, rostering officer for an airline and twelve years working as Head of Licensing for a children's TV production and licensed merchandise company providing valuable commercial experience.
Alongside this role, I am also the Chair of the Friends of Hanham Woods Academy"
Lisa West (Appointed September 2018)
"I have recently been appointed as Parent Councillor for the Academy and have a daughter at the Academy who is currently in Year 10.
I have also been a Governor at a local primary school for the last 8 years and for 4 of those years I was the Chair. I have a keen interest in education and governance and am keen to broaden my knowledge and skills to secondary governance.
I feel very passionate about every child having the opportunity to an education and learning while at school and I want to be part of making sure that happens."
Teaching Staff Councillor
Paul Laidler
"I am currently a Science teacher at Hanham Woods Academy and I have worked at the Academy, in a variety of roles, since January 2005.
I have been the teaching staff representative on the academy council since June 2016. Prior to this I had advised the previous school governors on various issues, mainly linked to professional development and personnel.
I have worked as a teacher for nearly 30 years and I still  feel as passionate now, as I did all those years ago, about providing the young people going through our schools and academies with a balanced education. One that provides access to the wonders of the world, fair employment and the level of achievement needed to make the next steps in a life time of learning."
Principal – Steve Kneller
Executive Principal – Dan Nicholls
Downloads